Realname:
Glenn Martin Jensen
Nickname:
Baxxster
Born:
1. September 1991
Place:
Lyngdal, Vest-Agder, Norway
Profession:
IT
About me:
Well above IT enthusiast.
In my spare time, I'm usually in front of my computer, working on web pages, servers, networks, learning new stuff, or playing games.
Besides that, I'm also driving around in my car from time to time. More information about this car can be found on the
"My Car"
page.
Well, now I don't really know if there's much more to tell, if you do have any questions, please don't hesitate to contact me through the
"Contact Me"
page, I'll reply you as soon as I can!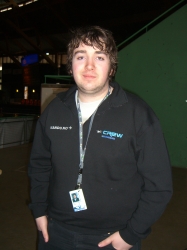 The Gathering 2010 as CFAD (Crew for a day)